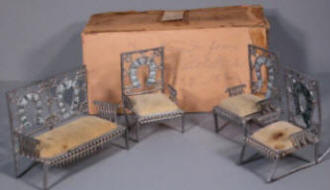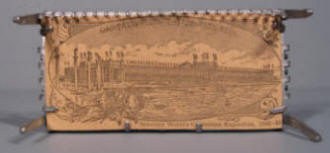 Columbian Exposition 1893
Adrian Cooke Fairy Furniture
$695.00
A unique collection of Columbian Exposition and Century of Progress souvenirs is available at Cagneys. This four piece set of Adrian Cooke Fairy Furniture, along with its box, captures the intrigue of the Columbian Exposition, held in Chicago in 1893. With their rickety stature and slightly stained seats, these miniature pieces seem to mirror the adversity that the Exposition itself endured, as detailed in the book,
The Devil in the White City
, by Eric Larson. Made of fragile metal, it is amazing that this set is still intact; it seems unlikely that many of these sets have survived.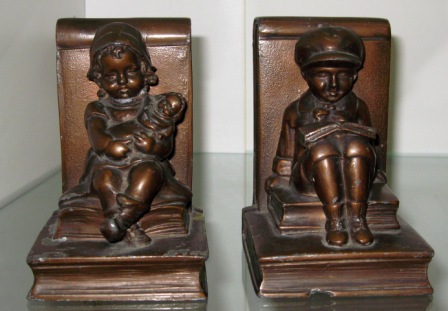 Art Deco Nuart Signed Bookends
c. 1925

$275.00

Truly enchanting, this rare pair of Nuart signed bookends portrays a Victorian girl and boy, each seated on a book. They are made of either pot metal or spelter and their bronze finish is in very nice condition considering their age. Please note the ding in the base of the boy bookend. Each measures approximately 5 inches tall and 4 inches wide; the pair weighs approximately 5 pounds.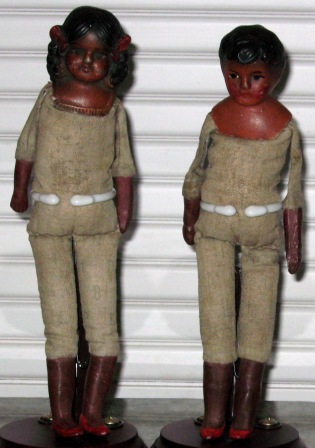 Nippon Dolls
c. 1891-1921
$195.00
Hard to find and treasured by collectors, these Nippon black dolls stand approximately 8" tall.
An 'ABC' print is faintly visible on their cloth bodies, and both are marked 'Nippon'. Obviously well loved over the years, this precious pair has nonetheless survived intact and is a rare example of the Nippon era.








Century of Progress
Sterling Letter Opener
1933
$245.00
Exquisitely made and marked Marshall Field & Co. Sterling, this letter opener measures approximately 6¾" long.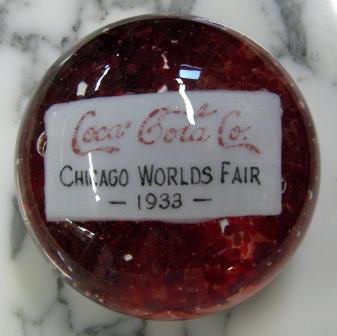 1933 Chicago Worlds Fair
Coca Cola Co. Paperweight
$325.00
Featured above is a rare fantasy paperweight which was hand blown at the 1933 Chicago Worlds Fair (Century of Progress).
This version was sold as a souvenir and was not authorized by the Coca Cola Company.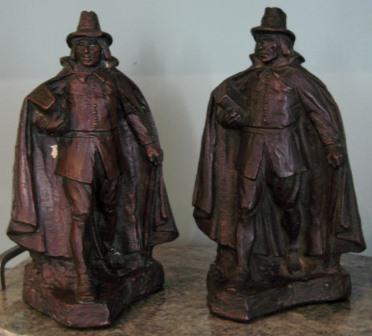 Armor Bronze Bookends
Signed J. Ruhl
1915
$475.00

These massive, 10 1/2" high, bookends are bronze clad over plaster and are signed J. Ruhl, along with the Armor Bronze mark and the year, 1915.
They are in very good, unrestored condition.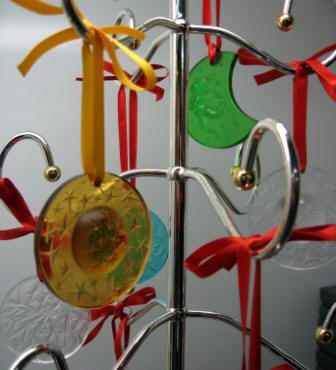 Early Lalique Christmas Ornament
Collection
$695.00
Add the wonderful glow of Lalique crystal to your holidays! This collection of Lalique annual ornaments includes the 1988 first edition, along with years 1989, 1990, 1993, 1994, 1995, 1996, 1997, 1998, 1999 and 2002. All pieces, including the display tree, are in excellent condition. Most of the ornaments have their original boxes, however, three have archival boxes.





Century of Progress
Aluminum Cane
1933-1934
$125.00
This is a seldom seen memento from the Century of Progress, held in Chicago, 1933-1934. Constructed of a lightweight metal, apparently aluminum, this cane has several different attractions from the fair depicted on its shaft. Among these are the Sky Ride, Electrical Group, Spanish Village, Golden Pavilion of Jehol and the Administration Building. Of interest is the crack on the inside curve of the handle. The charming tale of how this came to be is included with the cane.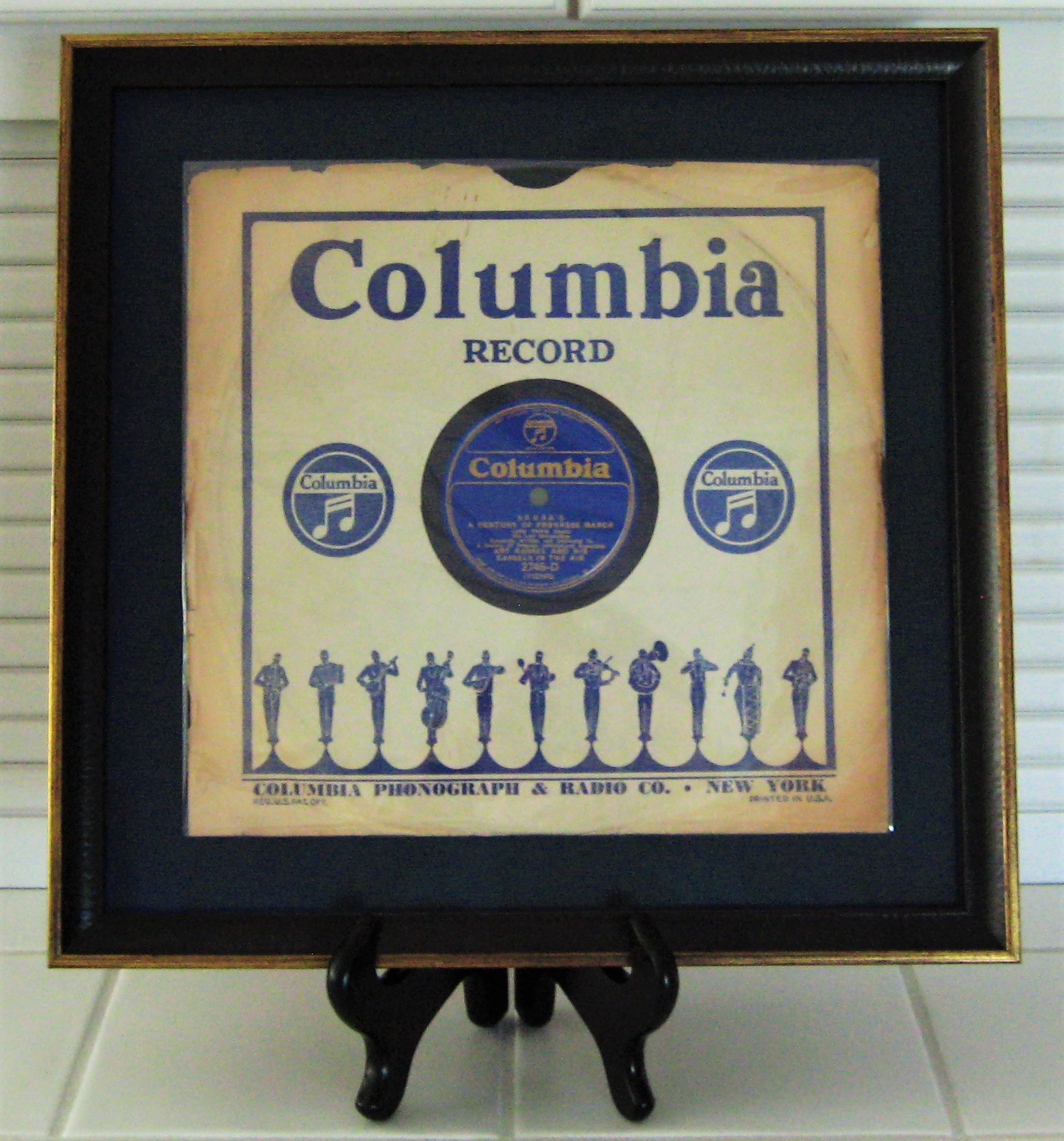 Century of Progress Official Songs
Rare Blue Wax 78
1933
$400.00


This record includes John Phillip Sousa's

A Century of Progress March (his last composition) and

The Official Song

of the Century of Progress, performed by Art Kassel and his Kassels in the Air. This is a 10" Columbia 2745 with 'rim lams', graded E. It has been professionally framed.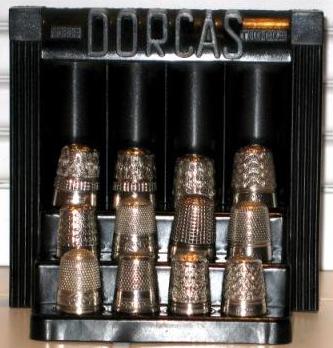 The Dorcas Collection
Set of 12 Thimbles
c.1884-1948
   Includes Most   Rare American Dorcas thimble

$1,895.00




To inquire about these items please contact:
Cagneys
Home